So you've found yourself deep in a pit of creative despair.
No matter how hard you try to draw something you keep coming back with nothing, or something that looks like doo-doo. Bummer. The good news is that you're in good company; just about every artist has experienced it, and will experience it again, and again, and again, and so on.
How to get past Art Block is a frequently asked question in the Art Forum here on NG, so I figure I should make a comprehensive answer, to the best of my abilities here, so strap in we're gonna dive deep.
Identify the source of your problem.
This isn't going to be a step by step guide, so much as a flurry of information. Everyone is different, and at different stages of their artists' journey, so the root cause of the block can be any number of sources. The most important way to solve any problem, is to first identify the problem. I admit this may be a bit disjointed, but each section is a common problem, and one that I have personally experienced in some manner, and/or had friends who have experienced these issues. I don't have the data set to determine if these are issues every single artist goes through, but anecdotally speaking, they are very common.
Plateaus
Growth of any skill is very rarely a constant, linear progression of improvement. Often times improvement is going to feel imperceptible from day-to-day; sometimes you may even feel like you're getting worse. Stick it out and keep working, keep learning. Improvement comes with an increased awareness of your own shortcomings. As you get better your ability to read and identify the problem-areas of your art will generally be outpacing your ability to learn and overcome them. You can find a lot of graphs like this one; search google images for "art growth charts" but this one from Marc Dalessio was one I particularly liked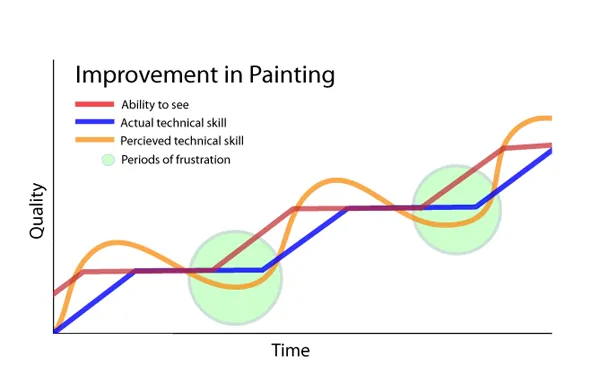 It is important to remember that (as previously stated!) the first step of solving the problem and -- in this case -- improvement, is identifying your problem(s).
Note in the graph how after a plateau you go from riding the high of noticing how good you're getting to crashing in the doldrums of realizing you've still got a lot to work on? I've been there many times over the past decade, and it is rough, but it is important to remember you're always working to grow.
If you're feeling like your work is in a rut, and looking very same-y; then you need to jump into studies mode (this is going to be repeated a lot in this) and work on learning. Getting into, or returning to fundamentals is always a good place to start. The only way to break out of a plateau is improvement; whether that is targeted studies to grind it out, or just gradually working it out over a longer stretch of time, is up to you, but you're going to have to improve your way out of it.
Switching things up
Maybe your problem isn't with plateauing, your studies are going well, but you're still just not feeling it. Your characters are looking good, but in some way lacking in a way you can't quite put your finger on.
It might be time to switch things up. Work on something way different; if you've been doing character drawings, work on landscapes, if you've been doing fully rendered colored pieces, switch to black and white, and so on.
Beyond just changing what you're drawing, try changing how you're drawing it. Try different mediums, approaches, and techniques. Limit your color pallets, if you've never done a type of art, go for it, take up watercolor, or stencil making, work physical if you're primarily digital, and vice-versa.
Participating in whatever art challenges are floating around on social media can be a good way to motivate yourself to try something new, and feel like you're productively feeding the algorithm gods, while also working in a way that you may not normally.
Personally I found that working in very defined limitations helps me to be a bit more creative to get something done. Whether it was when I first got into digital art, or when I got a 72 pack of Prismacolor markers, I would be spoiled for choice and try to use every tool I had. This is good for studies, to get comfortable with the tools, but to do a full piece and constantly be worrying about the specific color, or brush, or using the best possible color combos, its often overcomplicating matters. When I started really dialing it back and only using a few colors, or brush options for linework and coloring, I started to be able to focus on what I'm drawing and not how I'm drawing it, or how I should be drawing it.
Maintaining Focus
A big issue I see popping up increasingly, and have struggled with myself, is maintaining focus on working. It's very easy to sit and draw for fifteen minutes then get up and take an hour to do busywork. Last year I streamed a drawing every day on twitch to keep me laser-focused. Now, that's an extreme response, but streaming on the internet can be very effective in motivating you to keep working. I found the need to stay on cam, and stay working for the audience (or possibility of someone stopping in on the lower traffic streams) very effective in keeping me at my desk and working.
Another method I use, is put on an album or playlist that I really like, with songs that I will not skip and just throw that on in the Background and full screen my computer. I am not allowed to stop drawing until the playlist or album ends, unless I need to go to the bathroom or get water.
Other effective ways may be to move your work area away from a computer, or phone screen, or if you're a digital artist, disconnect from the internet and put your phone in another room. We are spoiled for distractions and sometimes the best thing you can do is remove yourself from them.
I've had middling success with building a more structured schedule, and trying to pencil in blocks of a day where I'm working on art. It's effective for some friends of mine, but my day-to-day schedule isn't quite rigid enough for that to be super effective with any consistency, and I've never been good at following day planners anyway. It might work for you though so give it a shot!
Strict discipline is going to really help your work ethic, and that may be difficult to achieve, especially considering all the other stuff floating around in our day-to-day lives; it's on you to determine if working on art is your priority, is how you spend your free time, or is eating away at your free time.
Understanding and defining your relationship with art
This is a sort of tangent to beating art block; but I think it's important for beginning and intermediate artists to define what they are hoping to get out of art. If your goal is to become a professional illustrator, it is important to get to work and grind out art block with studies, and just learning to build inspiration from the process of drawing. Whereas if it's a hobby, or something more meditative for you; it would be more healthy to slow it down and take more frequent breaks. Doing studies and building your understanding is still important, but art block shouldn't be seen as a huge issue that must be overcome at the expense of your peace of mind, you can afford to wait for inspiration to strike.
One of the major issues with the modern hellscape we operate in is, unfortunately, the commodification of hobbies. Hustle culture has, for many, broken the idea that anything can just be for the one person doing it. If you're not trying to be a career artist, it may be worth it to take a step back, take a break for a bit. If not from art, from sharing your art on the internet. The pressures of constant comparison to other artists, whether it's in terms of skill, or follower counts, or any other measure of perceived success, can be too much a lot of the time. Taking extended breaks, and declaring you are on a break may be the most healthy option since it removes the self-expectation.
Don't Be Precious With Your Art
added 6/8/22
It is important to take pride in your work, and in your progress as an artist, I just want to lead with that in this section. However, one can become precious with their work, and this can potentially lead to situations where an artist is hung up on one piece, or a current style, or design approach. It is easy to want a piece to look perfect, to get every detail down and really lose oneself in the drawing; but at some point all that time and work may turn into overworking the piece, or turn into the fear that you'll ruin it, or go into a state of constant revisions. The reality might be that it's time to move on to a new drawing, or dial it back a bit and be a bit looser on a smaller project, or even abandon it all together and find a new approach.
I've come to the conclusion as I've learned art, that a series of quicker messier drawings, all improving in tiny increments, that were done fairly quickly; while not as visually impressive on-the-whole as a single piece I've spent days and days and days on, have been better in improving my skills as an illustrator. I don't remember them as much as the big monoliths, but the little black and white, or two-tone sketches in the sketchbooks are where the bulk of your time learning, and making art will take place, and its where the true sparks of creativity appear, so don't neglect them.
Creating a monolith of an art piece that dominates every thought, and moment of your available work time, can end up pushing you to not want to work at all; it can be totally paralyzing. I have personal experience with a large commission that ate away at me to the point where I wouldn't even set up any art equipment because I didn't want to think about it. Eventually I went with scrap the work and find a new approach and it worked out, but it was an iffy few months.
The same situation can happen if you allow a perfectionist mindset to set in and have a vision that your current skill level cannot execute. If you adhere too much to this vision, you can demoralize yourself and not want to work on it, or anything in the future, because it's not going to be what you envision.
A somewhat janky drawing that falls short of your expectations is better for you, and your progress as an artist, than no drawing at all.


The Weight of Social Media and Algorithm Chasing
The social media landscape is completely and utterly unsustainable for artists. That is the truth, that is a fact. The demands of the various algorithms' hunger for 'content' is not something that artists were built to be able to keep up with. If you feel discouraged from drawing by lack of 'likes' 'follows' re-tweets etc. I can't blame you. It does feel good to get that reward of 'high engagement' on something you work really hard on; and it sucks when you put something out there that flops in engagement. That is the truth.
Chasing feedback, or an audience is difficult, and (for me) can feel gross, but it is a reality. And low empirical returns can be demoralizing. The only way out of it, is to either get a huge following and begin to get the dopamine drip of being internet famous; or to put less value on the feedback of social media. One is definitely easier to approach than the other.
I find a lot of internet artist communities can feel largely impenetrable, especially for already small accounts; but try to reach out to other small artists that share your interests, this can help to build a symbiotic community of solid feedback, and keep you all working on art. You may not rake in thousands of likes, but you can pull in some real feedback, that is more valuable. And from these connections you can push yourself to do some collaborations, art trades, or joint ventures on larger art projects. While it's not perfect, the Art Forum here on Newgrounds can be a good place to start and get targeted feedback on your art.
Finding Inspiration in the Process
I am not a scholar of psychology, and have not done much reading into the source of inspiration so this is by no means comprehensive, but I do have experience in having art block and working through it. I don't think I am alone in the feeling that after long spells of not working on art, the most daunting task feels like getting the ball rolling on it and starting a piece, sketches, or explorations. It isn't every time, but often once I sit down and start sketching, the ideas start to flow a bit easier after like half an hour, and the days after it's not as challenging to start. As you build the habit of drawing regularly, it becomes easier. I have been in situations where I didn't want to start drawing because I didn't have a few hours and didn't want to be interrupted. This is a bad perspective to have; if I had taken the twenty minutes here and there that I had, every time they'd pop up I could have gotten a lot of sketching done, and potentially expanded some ideas or chipped away at work. Instead I opted for sitting around watching a youtube video I've long since forgotten about.
This isn't to say that you gotta do a lot every day, but getting a little bit of sketchbook time in every day is great way to remind yourself that you don't need ideal circumstances to get to drawing. Waiting for ideal circumstances, whether it is time, inspiration, comfortability, or any other number of issues, is a good way to get a lot less done than if you just dive into it.
Dealing with a lack of inspiration, or creativity
So you've made numerous attempts to work through art block, switched up your mediums, subject matter, tried challenges, but no matter what you try to do it's just not happening.
It's time to do studies.
This goes hand-in-hand with the above matter of dealing with plateaus. Doing studies, whether it is practical skill building, or reading theory, will expand your knowledge and abilities, and they don't require you to come up with anything yourself.
Whether you are drawing a bunch of boxes and other objects in perspective, or doing a color study of a movie still, you have a clear objective. I'm just going to list a few of my personal favorite subjects to recommend: Gestalt Principles of Art, 1-point 2-point and 3-point perspective, Line-of-action for timed figure drawing practice.
Structured Classes
While this may be a bit against the prevailing DIY nature of the site I am going to say that some structured education is a very powerful motivator to work and to learn. The internet as a whole is full of art resources, Proko, Drawabox, Jazza, to name a few; but if there is an available option for you to take an art class, take it. I've made some good friends and met great artists from taking a few art classes. Professors can definitely be hit or miss, but there is a very good chance you're going to be forced operate outside of your comfort zone, and even be forced to do work that you may not like. I've taken art classes that legitimately felt like a waste -- curriculum-wise -- but seeing other artists work, and how they worked, asking about their techniques, and learning from each other in person was extremely valuable, and I highly recommend it. I would have never bothered getting into Oil Painting if I didn't take an oil painting class, and it's now my preferred medium for painting.
Probably the most valuable thing I took away from the various art classes I've taken was the knowledge of how to talk about art. Analyzing and then having the vocabulary to identify what works, and what doesn't, and having the basic knowledge to figure out how to fix it, or offer advice on how to fix it. I'm a very big proponent of having the sort of cognitive ability to realize there's an issue is one thing, but the ability to put it into words and intellectually break down why something works or doesn't work is much more valuable to improving the situation. You can say it's good! and then walk away, but understanding why it is good is more valuable.
This longwinded semi-tangent is to say that building your knowledge of art will help you to identify what works and what doesn't work, and help you to not get trapped in a major plateau and feel stagnant. It's kool to go to skool!
Finishing up
This isn't supposed to be a "get off your ass and get to work!!" type of motivational post; I'm not gonna throw out the Chuck Close, or Stephen King quotes on inspiration "being for amateurs," I've essentially said the spirit of that quote in a couple hundred more words here anyway. The reality is almost all of you out there who read this are going to be amateurs, and I hope you've gotten some amount of help from this, at the very least maybe some insight. Any further questions, please feel free to ask in the comments, or message me. Also if you have any insights on what you do to beat art block, drop that in the comments too!
Art block sucks, it's a reality every artist deals with at multiple points on their journey. Overcoming it may be harder for some than it is for others, but it can be overcome, all you need is a piece of paper, a pencil, and a flat surface.